Drill music pioneer Young Chop called out 21 Savage and took some shots at him on social media. Now, 21 replied to the Chicago-bred producer's disses via Instagram stories.
"Make sure y'all go get his tape wen it drop cuz he need da clout and pray for him cuz he done lost his mind." 21 wrote.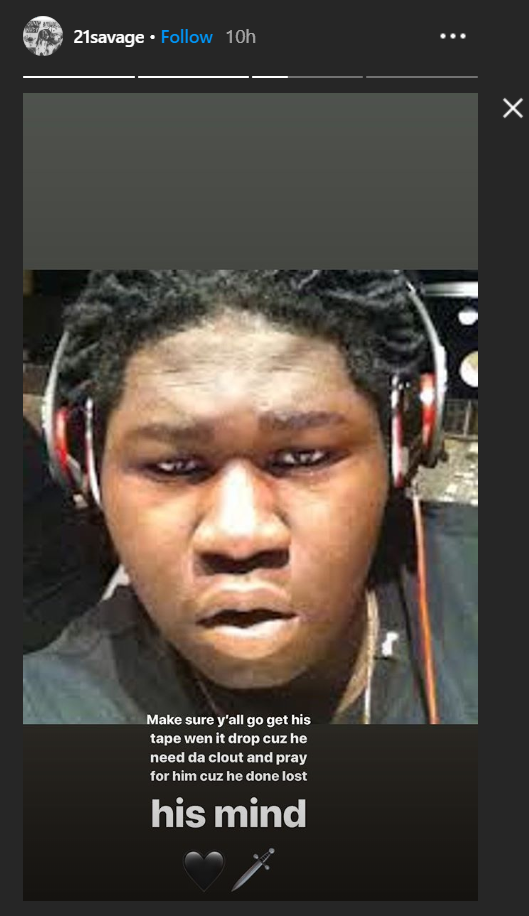 Young Chop openly questioned the street credibility of rappers such as 21 Savage, Migos and Meek Mill in an Instagram conversation with Gillie Da Kid. The veteran beatmaker revealed that 21 once fled in fear when Chop brought a gun to a recording studio. He also added that 21 hid behind Meek Mill during this alleged encounter.
Last Saturday (March 28), Chop put 21 on blast again on Instagram.
I state facts. Yeah, I'm saying niggas' names. Yeah, 21, all y'all niggas some bitches. What's up? On God. And I'm in Atlanta. And 21, we live in the same area. Tell the people that. We live in the same fucking area, nigga. We go to the same Walmart, nigga. What's up, nigga? Let the people know that. Fuck is you talking 'bout, nigga? And the reason why you don't walk around with no jewelry, let them know that. With yo bitch ass, nigga. You a bitch. And I walk around with all my shit and my shit real.

Young Chop