On his recent album "Music To Be Murdered By", Eminem took a few shots at some chosen rappers but compared to his 2018 LP "Kamikaze", he went relatively light on people. Em aired out Machine Gun Kelly, Joe Budden and Trippie Redd on the track "Marsh".
Then he said kill MCs/Trippie Redd, with pills and lean/Sipping meds in the limousine/Getting head, guillotine.
Now, Trippie Redd is responding to Eminem's attack on one of his Instagram stories.
Niggas be 50 beefing wit a 15yr old.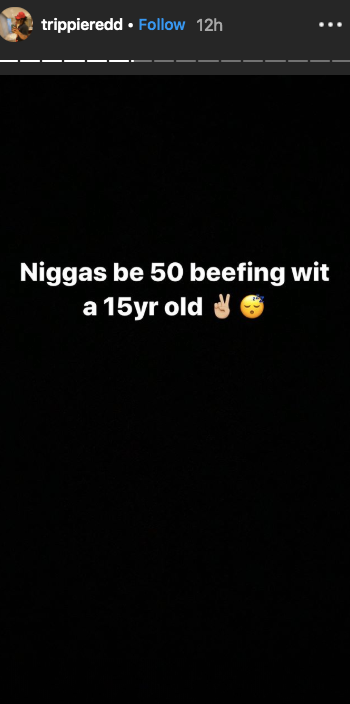 His reply was followed by a peace sign emoji and sleepy face emoji, indicating that the youngster is tired of the drama.
Joe Budden also responded to Slim Shady during a recent episode of The Joe Budden Podcast. People assumed that Eminem's line on the track "I Will" is about Budden, "Your group is off the chain, but you're the weakest link." On the track Em reunites Slaugherhouse members Joell Ortiz, Royce Da 5'9 and KXNG Crooked with Budden being missing.
According to Budden, the line is actually about Lord Jamar, another one of Em's foes.
The Em line in that song, when he was tearing Lord Jamar's ass up on old group flips, that led to 'Your group is off the chain, but you're the weakest link.' In a song featuring [members of] Slaughterhouse, I could see how that looked like it was about Joe. That's about Lord Jamar, obviously, if you listen to the eight bars coming before it. You [listeners can] get your panties out the bunch.
Budden concluded,
The same way I feel like [Eminem] should stop dissing Lord Jamar, he should stop dissing me. [Laughs] Hey, whatever we had — that exchange when you did all the [multi-day interview segments with Sway Calloway], and whenever I said whatever I said on the pod', it a moment in time.
We had our exchange. It's over. In 2020, I can't harbor negativity not only towards one of the best rappers, but somebody I'm not angry at. That's what I gotta stop doin'. I don't be mad at the people I come in and kill. There's no hostility after that.