Lil Tjay was recently hospitalized after being shot and controversial rapper 6ix9ine took that as an opportunity to kick Tjay while he was down.
6ix9ine popped up on social media Wednesday (June 22) after news of Lil Tjay's hospitalization began to spread online. The 21-year-old rapper was shot in Edgewater, New Jersey on Wednesday morning (June 22), which was confirmed by the Bergen County Prosecutor's Office of New Jersey, and rushed into emergency surgery. According to TMZ, a source confirmed he was recovering although "not out of the woods."
In the comment section of Akademiks' Instagram post about the shooting, 6ix9ine left a pair of laughing emojis making fun of the tragic situation.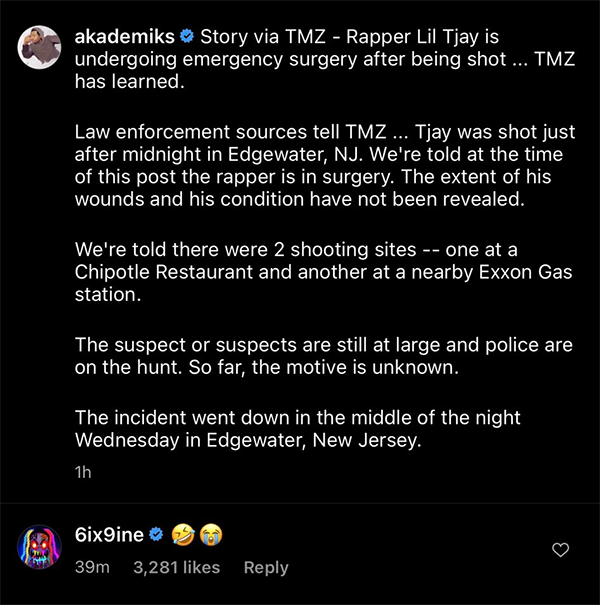 6ix9ine and Lil Tjay have beef stretching back to 2020 when the two traded shots over the King Of New York title. In August of that year, Lil Durk claimed 6ix9ine and his team paid the Chicago rapper $3 million to continue trolling him online in an effort to generate headlines. Lil Tjay quickly responded to the claim in his own Instagram Stories, writing, "They did the same shit with me !!!! Fuck his money!"