The drama between former lovers Tory Lanez and Megan Thee Stallion just got a little more interesting. Some explicit details on what their sex life was like have been revealed.
The Canadian rapper seemingly threw subliminal shots at Megan, saying she "couldn't take d*ck" after the female raptress shared a twerking video online.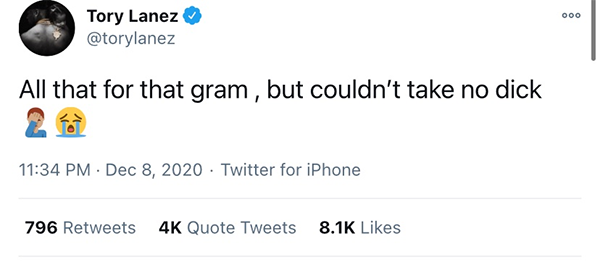 Megan is known for her raunchy lyrics, amazingly sexy body and twerking skills. The female rapper likes to brag about that in her music and that she is good in the bedroom, but not according to her ex, Tory Lanez.
Tory and Megan were seemingly in a very secretive relationship before the entire incident went down. Their blow-up is rumored to have happened over Megan's friend Kelsey's own alleged sexual relationship with the rapper.
What's more? Tory is currently facing 20 years in prison, as prosecutors claim that he shot Megan in the foot. Initially she denied that Tory shot her but the rapping beauty has since come clean and claimed publicly that Tory even shot her twice.